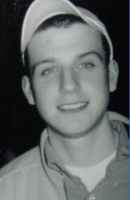 Christian J. Hartnett
Christian J. Hartnett, 31, of Syracuse, NY passed away Sunday December 11,2017.
Chris was born and raised in Syracuse where he attended Most Holy Rosary and was a graduate of CBA and St. Bonaventure University. He enjoyed golfing, fishing and spending time with friends and family.
Chris is survived by his Parents Andy & Mary Tobin Hartnett. He is also survived by his brother Andy (Annie); sister, Sarah and nephews, Grady, Jack and Bobby all of Rocky River, OH; his grandmother, Teresa Hartnett as well as several aunts & uncles and 50 first cousins.
A Mass of Christian Burial will be held on Thursday December 14,2017 at 11:00 am at Most Holy Rosary Church, Syracuse. Burial will be Private.
In lieu of flowers donations may be made to Most Holy Rosary School, 1031 Bellevue Ave, Syracuse, NY 13207.