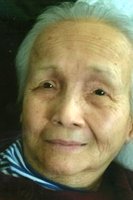 Moun Keo
Moun Keo, 97, of Syracuse, NY passed away peacefully on December 17, 2017 at home surrounded by family. Moun worked as a chef in Cambodia prior to immigrating to the USA in 1981. She was a member of St. Patrick's Church in Tipp Hill. Moun loved to garden and was awarded the Lincoln Park Neighborhood Garden Award.
Moun was predeceased by her husband, Dov Siv and her parents, Hou Lun and Sum Ol Keo. She is survived by her 5 daughters, Kim Sok, Nay Huoy Houn, Mouy Siv (Terry Pen), Amy Siv, and Lily Siv (Sovanna Long), 6 grandchildren and 11 great grandchildren.
Funeral services will be held on Friday, December 22, 2017 at 9am at St. Patrick's Church; 216 N Lowell Ave, Syracuse, NY 13204. Calling hours will be at 8:30 to 9am prior to the service at church. Burial will be in St. Agnes Cemetery.
In lieu of flowers, donation in Moun's memory may be sent to Upstate Breast Care Center; 550 Harrison St. Suite D, Syracuse, NY 13202