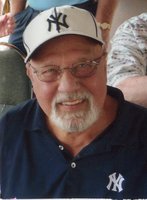 Joseph Anthony Fiumano
Joseph A. Fiumano Jr., 91, of Syracuse, passed away on Wednesday, December 20, 2017 at home surrounded by family. A lifetime resident of Syracuse, he graduated from Eastwood High School, Peekskill Military Academy, and was a member of LeMoyne College's first graduating class in 1951. Joe earned his master's degree from Syracuse University and was an associate professor at SUNY Oswego. He served with the US Navy in WWII and the US Army in the Korean war, retiring as Captain. He later served in the NYS Guard, retiring as a Brigadier General. Joe taught in the North Syracuse School District for 32 years, retiring in 1983. As a lifelong aviation enthusiast, he was a private pilot who enjoyed golf, the Yankees, traveling, and history.
Joe was predeceased by his brother, Pat. He is survived by his wife, Donna Ramsden Erhard Fiumano, son, Jarret (Jackie), step-children; Stephanie (Todd) Haring, Jeffery (Sue) Erhard, Stacy Kaska, 8 grandchildren, sister, Mary Dobbins and many nieces and nephews.
A memorial service will be held on Wednesday, Dec. 27, 2017 at 1:30pm at the Edward J. Ryan and Son Funeral Home, 3180 Bellevue Ave. Calling hours will be held from 11:30am- 1:30 prior to the service at the funeral home. Burial will be in Onondaga County Veteran's Memorial Cemetery.
In lieu of flowers, donations in Joe's memory may be made to the Francis House; 108 Michaels Ave, Syracuse, NY 13208