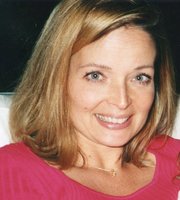 Karen Vendetti
Karen Vendetti of the town of Onondaga, died peacefully and with grace on Friday March 2, 2018. Karen was surrounded by her loved ones, and has been blessed with quiet days to spend together with family and friends before her death. Karen was predeceased by her grandparents and her Aunt Arlene with whom she enjoyed a loving relationship.

Karen lived a life of service to others. Her early social work years were spent assisting the independent elderly to obtain enriched residential services. She was employed as a social worker at St. Joseph's Hospital and later at SUNY Upstate Hospital before joining the NYS department of Health. In that capacity, she was assigned to the Office of Professional Medical Conduct and subsequently the department of Nursing Home Services. Karen received her undergraduate degree and completed her Masters of Social Work degree from Syracuse University. She was a devoted mom, loved traveling with Michaela, a selfless daughter and sister, a gardener who could make everything come alive, an accomplished chef, a loyal friend, and a willing and successful advocate for anyone who needed one.

Karen is loved and survived by her daughter, Michaela Mascia of Onondaga Hill and Philadelphia, Pennsylvania; her parents, Michaeline and Dr. Stephen Driscoll of Syracuse and Naples Florida and Ronald P. and Marie G. Vendetti, Sr. of Camillus; a brother and sister in law, Ron and Trish Vendetti of Suwanee Georgia; and several treasured aunts, uncles, cousins and friends.

Please join us in celebrating Karen's life on Friday March 9th. Visitation with the family is from 8:30 to 10:00a.m. at the Cathedral of the Immaculate Conception 259 East Onondaga Street. Reverend Neal Quartier will be celebrant of a Mass of Resurrection at The Cathedral at 10:00 a.m. Burial will be private.
In lieu of flowers, donations in Karen's memory may be made to Memorial Sloan Kettering Hospital; Department of Neuro-Oncology in C/O: Mariza Daras, MD, 1275 York Ave., New York, NY 10065.