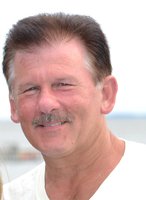 Richard M. DeCarr
Richard Michael DeCarr, 63, of Syracuse, NY passed away at Crouse Hospital on Tuesday, November 7, 2017 after a battle with cancer.
He is survived by his loving wife of 37 years, Barbara Martin DeCarr, his son and daughter-in-law Richard and Lauren DeCarr of Albany, NY, his son and daughter-in-law Brian and Laine DeCarr of Richmond, VA and his son Michael of Syracuse, NY. He was a loving grandfather to two grandchildren, Tierney and Raegan.
He is also survived by three brothers, Gary, Wayne, and John DeCarr and two sisters, Patti Herrmann and Sheila Emrich. He is predeceased by his parents Francis and Julie DeCarr of Ilion, NY, as well as his brother, Ronald DeCarr of Albany, NY.
"The Hawk" was the ultimate hard-working family man, who loved baseball, golf, backyard games and spending time with his wife, children, grandchildren, friends and family. He will be greatly missed, but will always be in our hearts and memories.
Calling hours will be Friday, November 10th, from 5-8 p.m. at Edward J. Ryan & Son Funeral Home. Services will take place Saturday, November 11th, at 9:30 a.m. at St. Michael's Church. In lieu of flowers, memorials may be made in his name to the American Cancer Society.