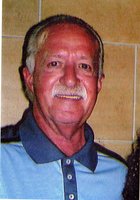 Thomas J. "TJ" Condon
Thomas "TJ" Condon, 66, passed away unexpectedly on November 17, 2017. Beloved son, brother, father, grandfather and uncle, TJ was a lifelong resident of Syracuse. A talented illustrator, painter, and an avid golfer- in his younger years, he was known for his softball pitching prowess city and statewide, and playing bass guitar for local bands. His easy-going charm and quick wit always left a (lasting impression on) smile with those he knew well or had even just met.
Predeceased by his parents, Bob and Betty Condon, he is survived by his daughter, Erin Condon Simpson (Andre); brothers, Michael and Pat (Sue), sisters, Maureen Condon (Stacey) and Robyn (Casey) Flanagan; his grandchildren, Gabrielle Scott, Isaiah and Tyler Simpson; nieces and nephews, Lindsay and Kelsey Flanagan, Jaime, Jessica, Mike, Lori, and Robert Kermes, and several cousins.
Calling hours will be held on Monday, November 20, 2017 from 4 to 7pm at the Edward J. Ryan and Son Funeral Home, 3180 Bellevue Ave. A memorial service will be held immediately after calling hours at 7pm at the funeral home. Burial will be private.