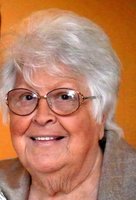 Viola A. "Mastropool" Buysse
Viola Mastropool, 90, of Solvay passed away Thursday November 23, 2017. Viola retired after 27 years with the Carrier Corporation. She was a communicant of St. Brigid's Church. Viola was also an avid Bingo player and enjoyed traveling to Las Vegas and Atlantic city. She also enjoyed spending times with her grandchildren.
She is survived by her daughter Mickie (Jerry) Femano; sons, Tony (Donna) Mastropool and Billy (Denise) Mastropool; a sister Mary Cuozzo, 7 grandchildren, 7 great-grandchildren and several nieces and nephews.
A mass of Christian burial will be held Tuesday at 10am at St. Patrick's Church. Calling hours will be held Monday from 4-7pm at the Edward J. Ryan & Son Funeral Home. Burial will be private.
Donations may be made to St. Brigid- St. Patrick Church, 216 N. Lowell Ave. Syracuse, NY 13204.