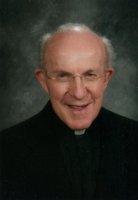 Msgr. James A. McCloskey
Monsignor James A. McCloskey touched the hearts and souls of thousands in the Syracuse Area through his kindness, generosity, spiritual inspiration and abundant good humor. Born in Syracuse on April 11, 1921, he passed away peacefully at Francis House on November 25, 2017. Msgr. McCloskey graduated from Cathedral Academy in 1939, and studied at St. Bernard's Seminary in Rochester and at Theological College in Washington DC. He was interested in the priesthood from an early age. He would say, "When I was maybe 7 or 8, I wanted to be pope, but then I lowered my expectations." In 2017, Msgr. McCloskey celebrated 70 years as a priest in the Diocese of Syracuse, where he guided parishes of Our Lady of Pompeii, St. Peter's, St. Daniel in Lyncourt, St Therese, Christ the King in Liverpool, Holy Family in Fairmount, and St. Brigid and St. Joseph. Since his retirement in 1995, he resided at Immaculate Conception Parish in Fayetteville, where he chose to, "Spend my final years cramming for the final exam before a fair and merciful judge." For 22 years, he was beloved by all at IC, especially the children of the school and the parish. He made a special point of visiting the school frequently and greeting parishioners after mass. In fact, the street to IC Church is named for him and a shrine of the Holy Family was dedicated to him, to honor him on his 90th birthday. During his long career, Msgr. McCloskey held many roles in the Diocese, including Director of the Confraternity of Christian Doctrine, theology instructor, member of the Priests' Senate, Spiritual Director for the Legion of Mary, Diocesan Regional Cabinet, and the Bishop's Board of Consultors as well as board member on several non-profit organizations. Outside his work, "Fr. Jim" was an avid sportsman enjoying golf, basketball and especially tennis. He was also an accomplished piano player and enjoyed singing as he played.
Monsignor was predeceased by his father and mother, Charles and Frances Haley McCloskey; his brother, Charles McCloskey and his sister, Rosemary McCloskey Murphy and nephew, Mark Murphy.
Fr. Jim is survived by 17 nieces and nephews: Charles McCloskey, Ann McCloskey Lamprey, Kathy McCloskey and Mary Lou McCloskey Reed; also Edward Murphy, Michael Murphy, James Murphy, Rosemary Murphy Barry and Katherine Murphy Magnarelli, and their spouses, 51 grand nieces, nephews and their spouses, and 36 great-grand nieces and nephews, all touched since childhood by his love and sense of fun.
He was a great speaker and writer, who always provided inspiration at services, careful listening and thoughtful and comforting words at difficult times, and the perfect joke for the right moment - even in his special messages at the end of Mass. Also a man of humility, when thanked for his words of wisdom, he would say, "Well, some think I'm wise. I've got 'em fooled."
Calling hours will be from 4 until 7 on Thursday, November 30th at Immaculate Conception Church, Fayetteville, NY. Following calling hours, at 7PM, a "Prayer Vigil for a Priest" will be held. The community is invited to attend. A Mass of Christian burial will be held on Friday December 1st at 10:30AM at Immaculate Conception Church. Private burial will be at St Mary's Cemetery, Dewitt.
In lieu of flowers, donations may be sent to the Msgr. James A. McCloskey Scholarship Fund for Immaculate Conception School, 400 Salt Springs Street, Fayetteville, NY 13066; or to Francis House, 108 Michaels Avenue Syracuse, New York 13208.