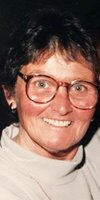 Maureen L. Lowery
Maureen L. Lowery, 89, passed away peacefully surrounded by her children on Sunday, December 3, 2017. She was born in Syracuse on June 25, 1928, daughter of George and Leona Cappon. She graduated from St. Anthony of Padua in 1948. Before starting her family, Maureen was employed by The New York Telephone Company. After years spent raising seven children, Maureen quietly donated time to her favorite causes including Most Holy Rosary School, Literacy Volunteers and helping students learn to read in her daughter's public school classroom. She was a communicant of Most Holy Rosary Church.
She was predeceased by her beloved husband of 63 years, Francis P. Lowery, her daughter, Joanne Lowery Fowler, her son, Kevin F. Lowery, her grandson, Patrick Lowery Coggins and her brother, John "Jack" Cappon.
She is survived by her son, Gary P. (Mary Jane) Lowery; her daughters, Mary Pat (William) Drexler, Karen (Roy) Hoesly, Kathleen (Michael) Burgess and Marnie Coggins; grandchildren, Colleen and Daniel Lowery, John, Craig and Brian (Leanne) Cordes, Kevin Drexler, Jeffrey (Sara), Terrance and Brian (Kristin) Hoesly, Carey Burgess Laing (Andrew), Timothy Burgess, Caitlyn and Christine Fowler, Sean (Shelby) and Craig Lowery and Elizabeth Coggins; great grandchildren, Jack and Kate Cordes and Keira, Piper, and Quinn Hoesly; her sisters-in-law, Norma Cappon and Rita Lowery and many nieces and nephews.
There will be no calling hours.
A Mass of Christian Burial will be celebrated at 10 a.m. Wednesday, December 6, 2017 at Most Holy Rosary Church; 111 Roberts Avenue, Syracuse, NY 13207
In Lieu of flowers, contributions may be made to Most Holy Rosary Church.