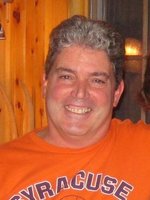 David G. Boyle
David G. Boyle, 59, of Syracuse passed away Friday, December 1, 2017, after a short illness. David was predeceased by his father, Leo E. Boyle. He is survived by his daughter, Allison; mother, Rose; brother, Bill (Kathy), and many nieces and nephews. He was employed by NCR, Inc. Dave was an avid golfer, and enjoyed league play at Vespers Hills. A long-time member of the Navarino Horseshoe League, Dave threw with the best of them.
A funeral Mass will be held at St. Charles Borromeo Church at 10 AM Thursday, Dec. 7, 2017. Calling hours will be held Wednesday, December 6th from 4-7pm at the Edward J. Ryan & Son Funeral Home, 3180 Bellevue Ave. Burial will be in St. Mary's Cemetery, DeWitt.
In lieu of flowers, donations can be made to the Food Pantry at St. Charles Borromeo Church, Westvale, NY.