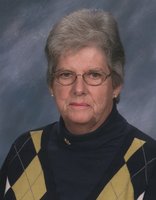 Margaret E. Heffron
Margaret E. Heffron, 83, of Syracuse, passed away on Tuesday, December 19, 2017. She was born to the late Eugene and Nora Heffron. She retired from UTC/ Carrier after 35 years and was a member of All Saints Church.
She is predeceased by her twin sister, Mary Cass and brothers, Eugene and Jack. She is survived by nieces and nephews; Patricia, Scott and Mike (Nancy) Heffron, Kelly (Brian) DeSocio and Peter (Kim) Cass all of Syracuse, many Oklahoma nieces and nephews and extended family.
A memorial service will be held on Friday, December 29, 2017 at 11:00am at All Saint Church; 1340 Lancaster Ave. Friends and family may call from 10:00 to 11:00am at the church prior to the service. Burial will be in St. Mary's Cemetery, DeWitt.
In lieu of flowers donations in Margaret's memory may be made to CNY Alzheimer's Association: 441 W Kirkpatrick St, Syracuse, NY 13204 or Syracuse Turners: 619 N Salina St, Syracuse, NY 13208