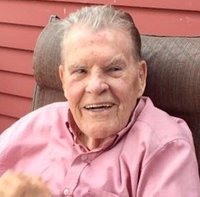 Gerald M. Coyne
Gerald M. Coyne, 85, passed away peacefully February 1st, 2018, at home surrounded by his family. Born in Syracuse on July 30, 1932, he raised nine children in Syracuse with his loving wife of 61 years, Eileen.
Gerry lived in Syracuse and Puerto Rico, served in the U.S. Navy, and retired as Vice President of Coyne Textile Services. He was an avid golfer, skier, and a lifelong fan of the Yankees. Many memorable summers were enjoyed with his family and friends at his home on Oneida Lake where he took great joy in teaching his children to swim. In their later years, Gerry and Eileen spent winters at their home on Hilton Head Island, South Carolina. Gerry will be remembered fondly for his "Archie Bunker" humor.
Gerry was predeceased by his wife of 61 years Eileen in 2014, father J. Stanley Coyne, and mother Jessie Adams.
He is survived by his children, Nora Vander Sluis (Peter) of Syracuse, NY; Kathleen Giarrusso of Camillus, NY; Suzanne Parker of Syracuse, NY; Gerald Jr. of Lakewood, Ohio; Jacqueline Murphy (David) of Carlsbad, CA; Kimberly Melville (Peter) of Rochester, NY; and Theresa Smith (Todd) of Frisco, Colorado; nephew, Michael Foertch and niece, Patricia Fischer. He is also survived by his well-loved grandchildren, Gerrit, Ryan, and Corey Vander Sluis; Julianne (Cleveland), Nicole, and Joseph Giarrusso; Gerald III and Daniel Coyne; Lawson and Patrick Parker; Kaitlin, Neahle, Colin, and Maeve Murphy; Grady, Mary Catherine, and Reilly Melville; Ian, Hannah, Benjamin, and Emerson Smith; 8 great grandchildren; siblings Joanne, Tommy, Susan, and Jack; and several nieces and nephews. Gerry's family would also like to thank his caregivers Trish, Brenda, Hillary, and Elda for their compassionate and heartfelt care over the years.
Family and friends may call Tuesday, February 6th from 9:30 to 11am at Most Holy Rosary Church, 1031 Bellevue Ave, Syracuse, NY 13207, followed by a Christian mass, and burial at St. Mary's Cemetery, Dewitt.
In lieu of flowers and in memory of Gerald, donations may be made to Hospice of Central New York, which provided such kind and compassionate support during this last phase of his life.