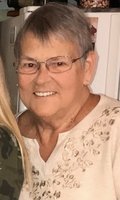 Jean L. Emerson
Jean passed away peacefully on Saturday, April 6th 2019, surrounded by her loving family. Born April 14, 1944, Jean graduated from Onondaga Valley Academy in 1961. She was the loving wife of Jack. They began their lives together as teenagers and were inseparable for 55 years. She was the matriarch of the family, and found the most joy in being a grandmother to her three grandchildren.
Jean was a fixture at various Fabius-Pompey sporting events cheering for her grandkids, and in earlier years supporting her husband who competed as a race car driver. She enjoyed playing golf, bowling, and Tuesday morning breakfasts with her former colleagues. Jean retired in 2003 as a Transportation Analyst with the Syracuse City School District.
Jean was predeceased by her parents, John and Irene Slingerland, and many close aunts and uncles. She is survived by her loving husband Jack, her son, JP (Laura) and daughter, Beth (Brian), her grandchildren, Sean (Cait), Katherine (Alex), and Daniel, their mother Sheila, and several nieces and nephews.
The family will receive friends on Tuesday, April 9th from 4-7 PM, at the Edward J. Ryan and Son Funeral Home, 3180 Bellevue Ave., Syracuse. Private funeral services will follow on Wednesday. Burial will be in St. Mary's Cemetery, DeWitt.