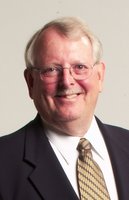 Craig Wane Christensen
It is with great sadness that we announce the sudden passing of Craig W. Christensen at his home in Ventura, Ca after a valiant battle with Alzheimer's and COPD. Craig was born In Lehi, Utah to Helen Sena (Thompson) and Wane Eric Christensen on 03/11/1939. Professor of Law Emeritus B.S., honors, Political Science, 1961, Brigham Young University; J.D., magna cum laude, 1964, Northwestern University; Order of the Coif; Member, Illinois State Bar Craig Christensen has a long and distinguished record in legal education. He is a past president of the Law School Admission Council (LSAC), one of the major legal education organizations, and has more than 30 years of teaching experience, including deanships at two law schools.
"I'm an old-fashioned law teacher and believe in the Socratic Method in which the approach is principally to engage people. As a result, I spend more time asking questions than answering them."
Following law school where he served as editor-in-chief of the Northwestern University Law Review, Professor Christensen practiced law with the Chicago firm of Kirkland & Ellis and later served as executive assistant to the chairman and president of the Chicago and Northwestern Railway Company. He began his career in legal education as executive director of the National Institute for Education in Law and Poverty and lecturer at Northwestern University. In rapid ascent, he served as legal advisor to the president and associate professor of law at the University of Michigan, and accepted dean posts at the law schools of Cleveland State and Syracuse Universities. Professor Christensen then served as president and executive director of LSAC for nearly five years followed by a year as visiting professor of law at Hastings College of Law. He was appointed to the Southwestern faculty in 1992. He became Professor of Law Emeritus in 2006.
Long active in the area of gay rights, Professor Christensen served on the National Advisory Committee of the Law and Sexuality Journal. He is a former member of the Board of Directors of the LAMBDA Legal Defense and Education Fund and the New York State Human Rights Political Action Committee, as well as a past chair of the State of New York's Task Force on Gay Issues, and founding chair of the Association of American Law Schools Section on Gay and Lesbian Issues. He has also served on the California Democratic Party State Central Committee and was a delegate to the 2000 Democratic National Convention.
Craig was preceded in death by parents, Helen and Wayne Christensen; brother, Corey Christensen and daughter, Cara Christensen.
Craig is survived by his husband and partner of 37 years, Anthony J. Mullen; son, Michael (Denise) Cuyahoga Falls, Ohio; daughter, Laura Ghirardini (Peter) Swampscott, Ma., and son, David of Adelaide, Australia; brothers, Russel (Kathi) Las Vegas, NV and Chris (Anne) Bozeman, MT; sister, Karma Wagstaff Salt Lake City, UT; 11 grandchildren, his pugs, Elektra and Bruce and many nieces and nephews.
Special blessings and thanks to Liz Moten, his caregiver for many years. With her help Craig was able to enjoy his home by the sea till the end...
There will be a memorial on May 9, 2019 at 10am for family and friends at the Edward J. Ryan and Son Funeral Home; 3180 Bellevue Ave., Syracuse, NY. Family will receive friends from 9 to 10am prior to the service. Burial will be in Valley Cemetery.
In lieu of flowers donation in Craig's name may be made to Alzheimer's Association of CNY; 441 W Kirkpatrick St., Syracuse, NY 13204.