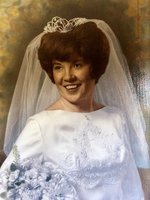 Helen Ann Lynch
Helen Ann Lynch, 76 of Syracuse passed away peacefully on June 23, 2019. Helen Ann grew up in Cortland, NY and graduated from St. Mary's, where she earned the Catholic Action Award. She attended BMI in Binghamton where she earned her business degree. She worked at Brewer-Tichners, Smith Corona and Paul Trinity, all in data processing. In Syracuse she worked for Hiscock Law Firm and Senator Barclay and worked at Carrols Enterprise as a secretary and supervisor. She retired from NYSEG as as a secretary.
Helen Ann was a communicant of Holy Family Church for 35 years. She was president of the Welcome Wagon in Camillus, NY, Charter Member of LAOH, President of the Women's Eucharistic League of Holy Family, President of the funeral luncheons, member of the funeral choir, Eucharistic Minister, lecture and taught first communion. Helen Ann loved to dance, sing and be with friends and family.
She was predeceased by her husband, John F. Lynch, parents, Ed and Molly Morris, sisters Margaret Reitano, Betty Mullen, Kate Morris and Pat McIntyre, brothers-in-law Lee Reitano, Anthony Petrella and Bill McIntyre, son-in-law, Walter Halleck and grandson, Thomas Halleck. Helen Ann is survived by her stepchildren, Pat (Lisa) Lynch, Maureen Halleck, Jackie Lynch and Chris (Roxanne) Lynch, sisters, Frances Petrella and Gen (Sonny) Ferro, brother in-law, Fritz Mullen, 4 grandchildren, 2 great grandchildren and many nieces and nephews.
A Mass of Christian burial will be held Thursday June 27, 2019at 10am at Holy Family Church, 127 Chapel Drive, Fairmount. The family will receive friends and relatives on Thursday June 27, 2019 from 8:30 – 9:30am at the Edward J. Ryan & Son Funeral Home, 3180 Bellevue Ave. Burial will Be in St. Mary's Cemetery. Donations may be made to Holy Family School and Right to Life of Holy Family; 127 Chapel Dr, Syracuse, NY 13219.