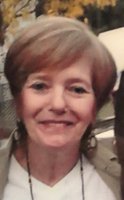 Mary C. Brunson
Mary C. Brunson, 62, of Syracuse, NY passed away peacefully on June 28, 2019. Mary was a retired nurse from Upstate Hospital. She loved to read, watch LifeTime and spend time with her husband and kids.
Mary is predeceased by her parents, Donald and Mary Otts, and brother-in-law, Byron Reeves, Sr. She is survived by her husband of 39 years, Elater Brunson, Jr., sons, Timothy (Celina), and Jason, step-sons, Elijah and Travis (Nicolle), daughters, Lisa (Tevin) Boykin of Mullin, S.C., and Angela (Carlos) Davila, brothers, Donald Phol of Germany, Donald (Mary) Otts, Jr., Patrick (JoAnn) Otts, and Edward (Diane) Otts, sister, Frances (Wilford) Simmons, 26 grandchildren, 4 great grandchildren, 2 close friends, Lisa Gentile and Christine LaRoco and many nieces and nephews.
Funeral services will be held at 10am on Tuesday, July 2, 2019 at St. Lucy's Church, 432 Gifford St. Calling hours will be held from 9 to 10am prior to the service at church. Burial will be in Valley Cemetery.