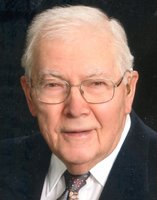 Raymond J. Cassady, M.D.
Raymond J. Cassady, M.D., 93, of The Nottingham, passed away peacefully on Thursday, July 4, 2019. Ray was a pediatrician in private practice and a physician for the Syracuse City School District. He was an active parishioner of Most Holy Rosary Church and a member of the American Academy of Pediatrics and the Onondaga Art Guild.
Ray is predeceased by his wife, Polly. He is survived by his children, Patrick, Timothy (Shelley), Kathleen, Frances (Terence) Feehan, and Margaret (Paul Burgay); siblings, Richard (Janice), Rosemary, and Patricia; grandchildren, Ryan Cassady (Amber Cunigan), Andrew (Alisha) Feehan, Martin Feehan, Luke Feehan (Michelle Mattera), Jacob Feehan, and Stephen Burgay; great grandchild, Caroline Jane Cassady; and many nieces and nephews.
Funeral services will be held at 10am on Thursday, July 11, 2018, at Most Holy Rosary Church. Calling hours will be held 4 to 7pm on Wednesday, July 10, 2018, at the Edward J. Ryan and Son Funeral Home, 3180 Bellevue Ave. Burial will be in St. Mary's Cemetery.

In lieu of flowers, donations may be made to Most Holy Rosary Church, 111 Roberts Ave., Syracuse, NY 13207 or the Golisano Children's Hospital, One Children's Circle, Syracuse, NY 13210.