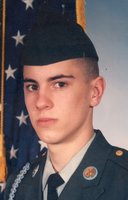 Sean M. Lawton
Sean M. Lawton, 47, of Syracuse passed away on Saturday, August 24, 2019. He was an auto painter who loved boating, outdoor sports, four wheeling and animals. Sean lived his life for his daughters who will miss him dearly.
Sean was predeceased by mother, Patricia A. Lawton. He is survived by his twin daughters, Miabella and Giavanna, father, Irving (Donna) Lawton; siblings, Julie M. Kielar, Mary (Michael) Garvey, Tammy A. Lawton, Rhonda Pecorelli, and Donna Gary; Aunt Shane (Ted) Storto, and many nieces, nephews and cousins.
Funeral services will be held at 10am on Friday, August 30, 2019 at Holy Family Church, Fairmount. Calling hours will be held on Thursday from 4 to 7pm at the Edward J. Ryan and Son Funeral Home, 3180 Bellevue Ave. Entombent will be in Greenlawn Cemetery, Warners.
In lieu of flowers, donations may be made to CNY SPCA; 5878 E Molloy Rd, Syracuse, NY 13211