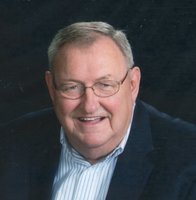 Michael E. Stroman

Michael Edward Stroman, 78, passed away peacefully at his home the morning of August 28, 2019.
Michael was born June 29, 1941 in Buffalo, New York to Edward Albert and Janet O'Neil Stroman. Michael was married to Margaret M. (Curran) Stroman of Buffalo, his loving and devoted wife of 49 years. Michael graduated from The Park School of Buffalo and attended Syracuse University and the University of Buffalo. He spent the majority of his professional career travelling the east coast of the United States and Canada as a salesman and management consultant in the industrial machine tool industry. Despite the fact that his work kept him on the road, he always travelled home to attend his children's activities and events. He enjoyed being with his family and in his later years, he enjoyed attending all of his grandchildren's activities and events.
In addition to his parents, Michael was predeceased by his sister, Janet Mary Stroman.
He is survived by his wife, Margaret; his children: Sarah (John Charles) Kernodle, of Charlotte, NC; Kurt (Molly) Stroman, of Syracuse, NY; Max Stroman, of Washington, DC; and Jake (Trish) Stroman of Bethesda, MD; ten grandchildren: William, Jake, Maggie, Peter, Grace, Samuel, Max, James, Lucy and Isabelle; his brother Neil Stroman, and sisters, Susan and Christy Stroman.
There will be no calling hours. A Mass of Christian Burial will be held on Tuesday, September 3, 2019 at 10:00 a.m. at Most Holy Rosary Church. Donations in Michael's memory may be made to Most Holy Rosary School; 1031 Bellevue Ave, Syracuse, NY 13207 or Hospice of CNY; 990 7th N St, Liverpool, NY 13088.