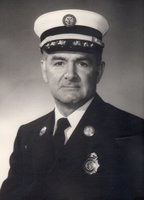 Donald J. Moriarty
Donald J. "Mush" Moriarty, 83, of North Syracuse, passed away peacefully at home with his family by his side on September 3.
He graduated from St. Patrick's School and served with the U.S. Navy aboard the USS Saratoga. He was a career firefighter, retiring as the Chief of Fire of the City of Syracuse Fire Department. He also worked part-time for Moriarty Trucking Services, his brother Jack's company.
He was an avid golfer, member of Pastime Athletic Club, West End Rascals, and Camillus Country Club where he enjoyed golfing with his buddies. He adored his family and loved watching and hearing about his grandchildren's many sports and activities.
He was predeceased by his sister, Marcia Mullen, and brothers Francis and Gene. He is survived by the love of his life, Carol (Barrett), his wife of 59 years, four children: Patricia (Patrick) Benz of Cicero, Kevin (Rose) Moriarty of North Syracuse, Mary (Jeffrey) Koenig of Liverpool, and Eileen (Jason) Grossman of Delmar, NY and nine grandchildren: Dan, Jeff, and Tom Benz, Noah, Casey, and Emma Koenig, and Riley, Katie, and Tyler Grossman. He is also survived by his brother Jack of Syracuse, his sister-in-law, Jean Barrett (OSF), Rosemarie Moriarty, and many nieces and nephews.
The family would like to thank the wonderful staff at the Nascentia Day Program and Hospice for their compassionate care.
Mass of Christian Burial will be held on Saturday, September 7, 2019 at 10am at St. Rose of Lima Church, North Syracuse. Calling hours will be held on Friday, September 6, 2019 from 4 to 7pm at the Edward J. Ryan and Son Funeral Home, 3180 Bellevue Ave. Burial will be in St. Mary's Cemetery, DeWitt.
In lieu of flowers, contributions may be made to the Alzheimer's Association of CNY; 441 W Kirkpatrick St, Syracuse, NY 13204 or to St. Rose of Lima Church; 409 S. Main St, North Syracuse, NY 13212.