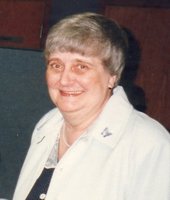 Eleanor Frances Jonas
Eleanor Hagemann Jonas, 88, passed away on Thursday, September 5, 2019 at University Hospital at Community one day before her 89th birthday. She retired from Blue Cross-Blue Shield in 1995 and then volunteered at Community General Hospital for 12 years.
Eleanor is survived by her siblings, Frederick (Patricia) Hagemann, Mary C. (Michael) Keegan, and Robert Hagemann and several nieces and nephews.
Her Memorial Mass will be held on Wednesday, September 11, 2019 at 10am at St. Joseph's Chapel at Most Holy Rosary Church; 201 Grandview Ave. Syracuse, NY 13207. There will be no calling hours. Burial will be in Greenlawn Memorial Cemetery.
In lieu flowers donations may be made to the MHR Food Pantry; 111 Roberts Ave Syracuse, NY 13207.