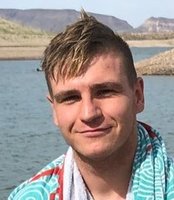 Joseph Francis Clancy
Joseph F. Clancy, 24, of Prescott AZ, formerly of Camillus NY passed away Sunday September 1, 2019. He was a passionate Chef and Adventurer who had an infectious sense of humor that would put a smile on every face. He wouldn't stop until he did.
Joe had a heart of gold and a talent for connecting with people. He knew the world was full of negativity, that's why he would post on Facebook "Tell me something positive in ya life". He truly wanted to know! Through it all, he carried an optimism toward life that few had.
Joe was predeceased by his grandmother, Margaret "Peggy" Clancy and aunt, Amy F. Okrzynski. He is survived by his parents, Ann and Daniel Clancy; sisters, Katie Clancy and Maggie Clancy; cousin, Jamie Okrzynski; grandparents, Jerome and Nancy Okrzynski and John E. Clancy Jr., and many aunts, uncles, cousins and friends.
Calling hours will be held on Tuesday from 4 to 7pm at the Edward J. Ryan and Son Funeral Home, 3180 Bellevue Ave. Funeral services will be held at 12:30 on Wednesday, September 11, 2019 at Holy Family Church, Fairmount. Burial will be in St. Mary's Cemetery, Dewitt.
In lieu of flowers, donations can be made to "We Rise Above the Streets"; 404 Oak St, Syracuse, NY 13203.