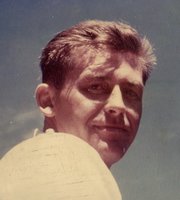 Francis C. "Fran" King
Francis "Fran" King, 91, left this life on September 7, 2019 joining his beloved wife, Joan, in eternal rest. Fran was born in Lansing, MI to Anna and Francis King. The family moved to Syracuse and "Sonny" attended Syracuse City Schools graduating from Nottingham High School. He was a Life Scout and lettered in baseball for Nottingham High School.
Fran began his career with Burns Brothers in 1948. He joined Neles-Jamesbury in 1977 as sales manager for Upstate NY. He met the love of his life, Joan, on a blind date, and they were married in 1952. Fran and Joan raised a loving family with five children, four grandchildren and one great grandchild. He was an avid golfer, fisherman, and enthusiastic fan of Syracuse University Athletics. Fran served his community as Westhill School Board President and member from 1976 -1981, in addition to numerous community advocacy groups. He will be remembered as a loving husband, father, grandfather, brother, neighbor and friend to many.
Fran is predeceased by his wife, Joan H. King. He is survived by his children, Brian (Amy), Barbara (Lee), Carolyn, Jonathan, and Ellen; four grandchildren, Madeline (Ben) Rowe, Allison, Gavriele, and Jonathan; one great grandchild, Charlie; a sister, Shirley Babine; siblings-in-law, Patricia (Jim) Krick and Carol Carolin and many loving nieces and nephews.
Funeral services will be held on Wednesday, September 11, 2019 at 6pm at the Edward J. Ryan and Son Funeral Home, 3180 Bellevue Ave. Calling hours will be 4 to 6pm prior to the service at the funeral home. Burial will be private.
In lieu of flowers, donations may be made to Francis House; 108 Michaels Ave, Syracuse, NY 13208 or a charity of your choice.