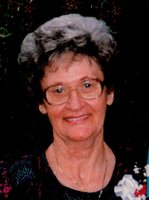 Margaret A. Mayes
Margaret Mayes, 92, of Liverpool, NY passed away on September 12, 2019 at The Cottages at Garden Grove in Cicero. She was born and raised in Old Forge, PA. After her marriage to Arthur Mayes, they moved to Central New York, where they raised their family in Liverpool, NY.
Marge and Art spent many summers in the Thousand Islands, boating, fishing, entertaining family and friends, and relaxing.
Marge worked at the Syracuse Veterans Administration Medical Center for many years, retiring in 1984.
Marge was predeceased by her husband of 66 years, Arthur Mayes. She is survived by her children, Joan (Maureen) of Camillus, Arthur (Gabriele) of Loganville, GA, grandchildren, Joshua (Stella) of Atlanta, GA, David (Gratae) of Thailand, five beautiful great grandchildren, her sister, Joan Ercoli of Lake Elsinore, CA and many nieces and nephews.
Funeral services will be held on Wednesday, September 18th at 11 a.m. at the Edward J. Ryan and Son Funeral Home, 3180 Bellevue Ave. Calling hours will be prior from 10:00 a.m. to 11:00 a.m. Burial will be in Onondaga County Veterans Memorial Cemetery, 4069 Howlett Hill Rd, Syracuse, NY following the service.
Donations in Marge's memory may be made to the CNY SPCA, 5878 East Molloy Rd, Mattydale, NY 13211