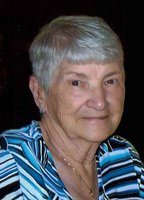 Rita Claire Canavan
Rita Claire (McGee) Canavan 89, of Fairmount, passed away peacefully at Iroquois Nursing Home after a 20-year battle with Alzheimer's disease. She is pre-deceased by her husband, Paul Sr., son, Richard, and son-in-law, Philip Biggie. She is survived by 2 sisters, Pat Regan and Audrey Griffiths as well as 4 daughters, Margie, (Gary) Gordon, Sally (Michael) Rozniak, Mary (William) Richardson, Betsy Biggie, and 4 sons, Michael (Sue), Paul, William, and Martin (Sue). Her large and loving family includes 16 grandchildren, 10 great-grandchildren and several nieces and nephews.
Rita was born on January 1, 1930 and raised in Scranton, PA before relocating to the Syracuse area with her new husband, Paul Canavan.
She was a homemaker, a devout Catholic, a Eucharistic Minister, a volunteer at Community General Hospital and worked for the Onondaga Public Library. She made pilgrimages to Guadaloupe, Medjugorje, and Rome but was happiest when her family gathered around the pool for cookouts, swimming and birthdays.
Rita's family would like to thank her professional and advocative caregivers at both Keepsake and Iroquois for their care.
Calling hours are 4-6 p.m. Monday, September 16 at Edward J Ryan & Son Funeral Home at 3180 Bellevue Avenue. A Funeral Mass will be held on Tuesday at 10 a.m. at Holy Family Church on Chapel Drive. In lieu of flowers, donations may be made to the Alzheimer's Foundation of CNY.