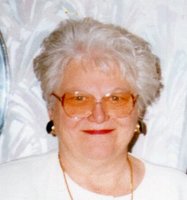 Margaret A. Nicolini
Margaret (Hennigan) Nicolini, 85, of Solvay passed away September 28, 2019 peacefully at her home surrounded by her loving family.
Born and raised in Tipperary Hill, Syracuse, NY. Margaret started her career as a nurse at City Hospital (where she met her beloved husband). She retired from Van Duyn Hospital after 20 years of service. Margaret loved embroidering, cooking, listening to Irish Music, but mostly entertaining for family and friends and anyone who came to visit. She will always be remembered for her unending kindness, wonderful sense of humor, sparkling blue eyes and warm smile.
She is predeceased by her brother, Thomas Hennigan and granddaughter, Rachel Margaret Venuti.
She is survived by Harlan, her devoted husband of 60 years; her daughter, Elizabeth (Peter) Venuti; son, Thomas (Meghan Thompson) and grandchildren Stephanie and Justin. She is also survived by her sister, Mary Jane Finnegan of North Carolina and several nieces and nephews.
We would like to thank "Margie's Girls" whose love, compassion and dedication for the last four years made it possible to keep her at home; Donna, Emily, Frannie, Mary, Meghan, Nikka, Theresa, Tonia and Zoraida (Cheeky).
A Mass of Christian Burial will be held Wednesday October 2. 2019 at 10am St. Patrick's Church, 216 N Lowell Ave, Syracuse. The family will receive friends and relatives at Church from 9-10am prior to the service. Entombment will in St. Mary's Cemetery, Dewitt. In lieu of flowers donations may be made in her honor to American Parkinson's Disease Association, 135 Parkinson Avenue Staten Island, NY 10305.