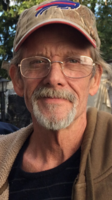 Steven de la Garza
Steven M. de la Garza, 60, died unexpectedly Friday night, October 4, in Syracuse. He had visited family in Syracuse over the years, and in 2004 he made it his home when he met and married the love of his life, Margaret. Born in Austin, Texas, he resided in Brownsville, Texas during his childhood and adolescence. After losing his parents in his teens, Steven left Brownsville and met challenges with courage and creativity. No matter how far he traveled in his search for new roots, he and his twin brother, Leland, always had a special bond.
Locally, Steven made a living in construction and landscaping. His family and friends and neighbors knew and appreciated him for his kindness, generosity, and sense of humor. Steven was a creative and enterprising cook and loved to grill outdoors for friends on summer nights. Woodworking was an additional hobby which showcased his artistic talents. One of his favorite activities was fishing and exploring the countryside and lakes in upstate New York and the Adirondacks with his wife and daughter. He will be missed by friends and co-workers, and especially by his family.
He is survived by his wife, Margaret, and his daughter, Margaret Piraino, Syracuse, his twin brother, Leland de la Garza, Cedar Hill,Texas, his sister, Silvia de la Garza, Manlius, brother, Mivin Libertus, San Francisco and nieces and nephews. Coco, the last in a series of beloved canines, will also wish Steven would walk in the door again.
Calling hours will be Thursday, October 10, from 4:30 to 6:00 pm at the Edward J. Ryan and Son Funeral Home, 3180 Bellevue Ave. in Syracuse. A memorial service will follow immediately.