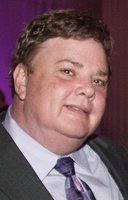 Timothy James Foster
Timothy James Foster, 67, of Camillus passed away peacefully at home of natural causes. Tim graduated from the University of Honolulu, where he earned his degree in Hotel and Restaurant Management. He worked in NYC, Pittsburgh and Syracuse, and most recently for Loretto at The Nottingham. Tim was an avid Yankees and Pittsburgh Steelers fan and enjoyed gardening, watching old movies, spending time with his family and many friends, and celebrations. He was loved by many and will be dearly missed.
Tim was predeceased by his mother, Betty Grillo, and father, Jack Foster. He is survived by his siblings; John L. (Diane) Foster, Jeffrey T. (Karen) Foster and Lissa (Al) Tripodi; his uncle, Russell B. Bush (Andrea), Greensboro, NC; several nieces and nephews, one great niece, two great nephews, and his beloved pets, Beau and Binder.
His funeral service will be held on Friday, March 6, 2020 at 7pm at the Edward J. Ryan and Son Funeral Home, 3180 Bellevue Ave., Syracuse. Calling hours will be held prior, from 4 to 7pm at the funeral home. Burial will be private in Mt. Adnah Cemetery in Fulton.
In lieu of flowers, donations may be made to the Samaritan Center; 215 N. State St, Syracuse, NY 13203 or the CNY SPCA; 5878 E Molloy Rd, Syracuse, NY 13211.