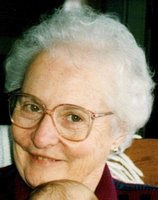 Mary B. Fegley
Mary Bogan Fegley of Syracuse died after a long illness. She was born on May 21, 1927 in Chadwicks, NY to Hazel and Edward Bogan. She is predeceased by her husband, Charles W. (Bill) Fegley and twin brother, Edward J. Bogan.
Mary graduated from Syracuse University with a B.S. in Nursing and worked as the head Pediatric Nurse at Syracuse Memorial Hospital. Later she worked in public health at several hospitals and schools in Rochester and Syracuse. Mary retired from Community General Hospital in 1990. She was an early member of St. Ann's parish in Syracuse.
Mary is survived by her children, Kathleen Kolb (John) of Fayetteville, Karen O'Rourke (Michael) of Rochester Hills, Michigan, Michael Fegley (Laurie) of North Syracuse, and Susan (David) Decker of Marcellus, 11 grandchildren, 6 great-grandchildren, in-laws Therese and Sally Fegley, Jeananne Gibeault and many nieces and nephews.
The family would like to thank the staff at Iroquois Nursing Home for their wonderful and loving care of their mother.
Due to restrictions, her funeral services will be private. She will be buried in St. Mary's Cemetery. A mass celebrating her life will be held at a later date for extended family and friends to honor her together.
In lieu of flowers donations in Mary's memory may be made to The American Parkinson Disease Association; 135 Parkinson Avenue, Staten Island, NY 10305 or a charity of your choice.