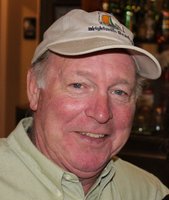 Dennis "Dinny" J. Gilmartin
Dennis "Dinny" J. Gilmartin, 63, passed peacefully from this life to the next on December 7, 2020.
He was born on April 16, 1957 on Tipperary Hill. He was a graduate of Christian Brothers Academy and University of Rochester. A longtime bartender, he was known and loved by many. Recently, he spent most of his winters in Florida and summers at the family camp on Lake Ontario. The camp on Lake Ontario was his favorite place on earth.
He was predeceased by his parents, Robert "Moon" and Genevieve Gilmartin and his beloved dog, Chauncey.
He will forever be remembered by his sister, Mary Lee and her huband, Terry Coffey; brother, Robert and his wife, Jennifer; nephews, Eamon Coffey; Jack, Ryan and Luke Gilmartin; aunt and uncle, Marianna "Mickey" and Nick Masterpole and many cousins and friends.
A celebration of his life will be held on Saturday, December 12, 2020 at 10am at St. Charles Church; 417 S Orchard Rd, Syracuse, NY 13219.