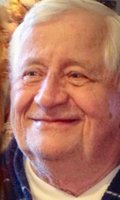 Richard "Dick" Allen
Richard W. Allen, 83, passed away on Saturday, April 25, 2021. He was surrounded by his family at the time of his passing. Richard or "Dick" Allen, as he was most commmonly known, is survived by his wife of 61 years, Agatha Louise Allen; their four children, Terri, Carl, Kelly and Richard II; 6 grandchildren, Jessica, Tarek, Diah, Sereen, Natalie, and Richie Jr., one great grandchild, Cameron, sister, Tarry and many nieces and nephews.
Richard was an extraordinary auctioneer and sold everything from cheap vases to items worth millions of dollars. The way that he interacted with the crowd made it a great show. Dick was also a co-owner of Gregorio's with his wife, Agatha. Together, they traveled to Italy and other places, and had great fun.
He was a great father, and a good friend to many.
Funeral services will be held on Wednesday, April 28, 2021 at 11am at St. Patrick's St. Brigid's Church, 216 N. Lowell Ave. Calling hours will be prior from 10-11am at the church.