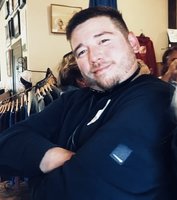 Charles D. "Charlie" Vassar
Charles "Charlie" D. Vassar, 33, of Solvay passed away at home on Tuesday, May 11, 2021. He was a lifelong resident of Syracuse and its surrounding areas. At the time of his passing, he was employed by Onondaga County as a Maint. Mechanic Member of Local CSEA Union #834.
Charlie had the most wonderful sense of humor and if you knew him, you loved him. He enjoyed reading, usually history or the wheel of time, watching football games, spending time with his family and close friends, especially Ava and Logan, his niece and nephew. He was incredibly generous and kind and was always willing to help a friend in need.
He is predeceased by his parents, Richard and Jeanette Vassar both of Mattydale. Charlie is survived by his 3 sisters, Elisabeth, Katherine, and Katrina, stepbrother, James Corey, all of Syracuse, stepmom, JoAnn Vassar of N. Syr., niece, Ava and nephew, Logan of Syracuse, maternal grandparents, John and Lee LaParo of Onondaga Hill, his beloved cat, Tallie, and several aunts, uncles, and cousins.
"Tia Mi Aven Moridin Isande Vadin."
(The Grave is No Bar to My Call)
Funeral services will be held on Tuesday, May 18, 2021 at 10 at the Edward J. Ryan and Son Funeral Home 3180 Bellevue Ave., Syracuse. Calling Hours will be Monday, May 17th from 4 to 7pm at the funeral home. Burial will be private.
In lieu of flowers donations may be made to CNY SPCA; 5878 E Molloy Rd, Syracuse, NY 13211 or local AA.