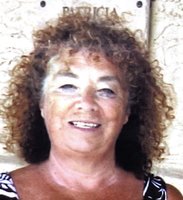 Patricia Karins
Patricia "Pat" (Jones) Karins, 79, of Syracuse, passed away peacefully at Upstate University Hospital. Born and raised in Syracuse, NY, Pat was a graduate of Onondaga Valley Academy, class of 1959, and was a proud and robust member of their alumni association. She enjoyed working as a teacher's assistant for the Syracuse City School District until her retirement.
Pat was known for her untamable curly hair, her near constant suntan, and her beloved sass. She enjoyed spending time with her family and friends, traveling to the beach, reading any book she could get her hands on, and knitting the coziest sweaters and blankets for charities and those she loved.
She was a diehard New York Rangers hockey fan, and an original Syracuse Crunch season ticket holder, a passion that she has since passed on to her grandchildren. She was THE BEST Nana, present for every school event, dance recital, baseball game, and hockey game. She was always helping behind the scenes, shuttling grandkids from practice to practice, being the fun "stage grandma", and even becoming the registrar for the Valley Youth Hockey Association. She was simply known by all as Nana Pat.
Pat is predeceased by her parents, J. Paul and Lora Belle (Troxler) Jones, and her brother Pastor Paul A. Jones.
She is survived by her daughter, Kimberly (Raymond) Carrock and son Christopher "The Dude" Karins; her 5 grandchildren; Hannah (Eric) Mazzoni, and Benjamin (Andrea), Abigail, Emma and Daniel Carrock; her sister Randi (Michael) Brashear, sister-in-law Cynthia Jones, and numerous nieces, nephews, cousins, loved ones and friends.
There will be no formal services, that wasn't Pat's style. Instead, a celebration of life (and beer!) will be held later this summer for all family and friends who wish to eat, drink and reminisce in honor of our favorite lady.
For more information regarding this event, please contact the family directly at carrockfamily@gmail.com