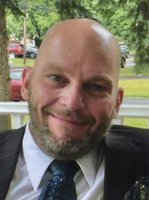 Ralph E. Kazmirski
Ralph E. Kazmirski, 51 of Liverpool passed away Sunday, May 30, 2021. He was the son of the late Henry Sr. & Jackulyn Kazmirski. Ralph was also predeceased by his brothers, Henry Jr. and James Sr.
Ralph was proud to be a part of a large and loving family that included his work families at Geddes Bakery and Prevention Network.
Left to cherish his love and memories are his fiancé, Elizabeth Santorelli Colon, two children Carl and Brittany, four sisters, Catherine Bell, Jackulyn Wells (Mark Lounsbury), Sandra Walker and Mary Alice (John) Walrath, and many aunts, uncles, nieces, nephews, cousins and friends.
A Christian Mass will be celebrated at 9:30 am on Thursday, June 3, 2021 at Sacred Heart Church; 927 Park Ave, Syracuse, NY 13204. Burial will be in Assumption Cemetery.