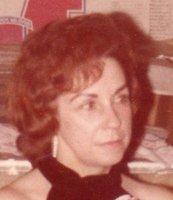 Arlein M. Arnold
Arlein Arnold, 87, of Syracuse passed away on June 23, 2021. She liked to gamble in Atlantic City and Las Vegas. Arlein was a lifetime member of the Ladies Auxiliary of the Syracuse Moose Lodge. She ran her own restaurant off Seneca Turnpike and Brighton, worked for several years as a head cashier at P&C, then was the head of Super Foods Regional Food Demonstration Department.
Arlein is predeceased by her parents, Francis and Margaret Shatraw, 11 siblings, and many other relatives. She is survived by her three children, David (Maureen) Lasda, Richard (Catherine) Lasda, and Michael (Patricia) Arnold, 9 grandchildren, 9 great grandchildren and many nieces and nephews.
Funeral service will be held on Tuesday, June 29, 2021 at 10am at St. Lucy's Church, 432 Gifford St., Syracuse, NY. Calling hours will be from 9am to 10am at the church prior to the service. Entombment will be in St. Mary's Cemetery, DeWitt.
The family would like to express their gratitude to The Heritage for the amazing care of their mom.
In lieu of flowers, donations may be made The Heritage Memory Life Community; 750 East Brighton Ave Syracuse, NY 13205.