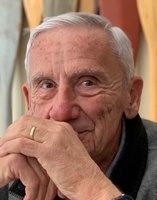 John M. Kennedy
John M. Kennedy, Sr., 82, of DeRuyter Lake, NY passed away after a short illness on June 23, 2021. John served proudly for two years in the US Coast Guard. He was a longtime resident of Syracuse serving for 38 years in the Syracuse Fire Department, where he retired as the 1st Deputy Chief. He also supported several important organizations; the Valley Men's Club, was a past president of the Tioughnioga Lake Association and dedicated countless hours to the preservation of Tioughnioga Reservoir. John loved his time as a fireman and enjoyed his lifelong pursuit of becoming the consummate "Irishman." His time with Patricia and family along with countless friends at DeRuyter Lake was where he found happiness.
John is predeceased by his parents, John and Rose Kennedy and his sister, Kathleen Dwyer. He is survived by his wife of 60 years, Patricia Kennedy, daughter, Sheila (Barry) Compagnoni, son, John Michael (Kimberly) Kennedy, Jr., seven grandchildren; Jack, Kate, Madeline, Ryan, Maggie, Emma and Molly and many nieces and nephews.
Funeral services will be held on Tuesday, June 29, 2021 at 10am at Most Holy Rosary, 111 Roberts Ave. Calling hours will be on Monday, June 28 from 4 to 7pm at Most Holy Rosary Church. Burial will be in St. Mary's Cemetery, DeWitt.
Donations in John's name can be made to Puzzle Solvers, Inc.; 50 Clinton Ave., Cortland, NY 13045 or Tioughnioga Lake Preservation Foundation.