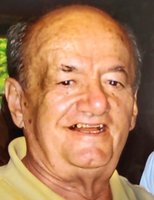 Eugene Anthony Ferris
Eugene A. Ferris, 88, of Albany passed away peacefully at Francis House in Syracuse on June 29, 2021.
Gene was born in Albany on August 19, 1932. He was the eldest son of Hugo and Sally (Pagini) Ferris. He was a graduate of Cathedral Academy Class of 1951. He proudly served in the U.S. Army during the Korean War. Gene was professionally employed as a salesman in the Plumbing and Heating industry, retiring in 1998. Gene loved to play golf and had his first (and only) hole-in-one in 2007 at the age of 75. Gene's greatest passion was thoroughbred horse racing, so naturally August was a special time for him at Saratoga Race Track. Nothing was more satisfying to him than watching a beautiful horse gallop to the finish line, especially if he was holding the winning ticket. However, win or lose a good dinner was always waiting after the track. Gene enjoyed his annual Florida winter vacations with his dear companion, Betty to spend time at the beach, by the pool and of course at the race track. Gene was a kind, generous caring soul who possessed a strong faith and his love of family was of the utmost importance to him. He considered all his nieces and nephews to be his own.
Gene is survived by his sister, Mary "Mitzi" Walsh of Syracuse, N.Y., sister-in-law, Susan Ferris of Latham, N.Y., dearest companion, Betty Orsino of Albany,N.Y.; nieces, Kathleen (James) Coughlin of Lexington, Mass., Marianne Hanover of Camillus, N.Y., Lynne (Mark) Biel of Colonie, N.Y.,; nephews, David Walsh of Syracuse, N.Y., Michael (Helen) Walsh of Camillus, N.Y., John Ferris of Latham, N.Y., Scott (Hillary) Ferris of Stephentown, N.Y., and Steve Ferris of Latham, N.Y. He is also survived by many great-nieces and great-nephews. He was predeceased by his brother, John J. Ferris in 2014.
We would like to thank all the staff at Francis House for their kind and compassionate care for Gene in his last days.
A Mass of Christian Burial will be held at 10am Wednesday, July 7, 2021 at St. Francis of Assisi Parish, 391 Delaware Ave, Albany, NY 12209. Calling hours will be from 9-10am at church prior to the mass. Burial will be in Calvary Cemetery, 481 Rte 9W, Glenmont, NY 12077.
In lieu of flowers, donations can be made to: Francis House, 108 Michaels Ave. Syracuse, N.Y. 13208.