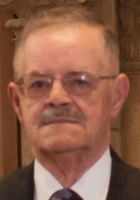 John J. Bockey, Jr.
John J. Bockey, 74, of Syracuse passed away August 10, 2021 after a long illness.
He was a graduate of Most Holy Rosary School, St. Gregory College and attended Gannon University. He resided in Leesburg, VA where he worked for the federal government before retiring as an accounting auditor.
John is survived by sisters, Elizabeth B. Lawyer and Martha B. (Herb) Hubert as well as several nieces and nephews.
John was predeceased by a sister Joan B. Muth of Scottsdale, AZ.
A Mass of Christian Burial will be celebrated on Tuesday August 17, 2021 at noon at Most Holy Rosary Church, 111 Roberts Ave. A calling hour will be held from 11am-12pm prior to the mass. Burial will be in St. Francis Xavier Cemetery, Marcellus, NY.