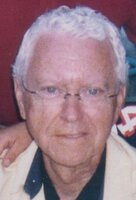 Rev. Robert John Wesley Winn
Rev. Robert John Wesley Winn was born on March 19,1932 in Galt Ontario, Canada to Rev. Robert and Gladys Winn. He grew up in Pembroke, Ontario. In 1951 he attended Eastern Pentecostal Bible College in Peterborough, Ontario.
In 1953 he married Barbara Tabacchi of Dearborn, Mich. In 1954 graduated. John began ministry in 1954 at Berea Tabernacle Detroit, Mich. and was ordained in 1958 with Pentecostal Assemblies of Canada, and his ordination was transferred to the Assemblies of God inSpringfield, Missouri in 1960. He pastored in Ontario, Canada, Michigan, New York State, USA and retired in 2009. His wife, Barbara passed away in 2003 and he married Faye DeJohn in 2014.
He is survived by his wife, Faye and 3 sons, Darryl, Mark, Jeffrey, 8 grandchildren, and 6 great children.
His memorial service will be held on Sunday, September 26, 2021 at 5:30pm at Grace Assembly of God Church; 4220 Fay Rd, Syracuse, NY 13219, with a meet and greet following immediatly after the service. Burial will be private in White Chapel Cemetery, DeWitt.
In lieu of flowers donations may be made to Grace Assembly of God Building Fund; 4220 Fay Rd, Syracuse, NY 13219