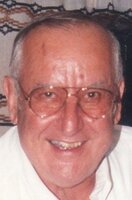 Harlan Nicolini
Harlan "Nick" Nicolini, 90, of Solvay, NY passed away Sunday, October 3, 2021.
Harlan was a lifetime resident of Solvay, New York, graduated from Solvay High School and CCBI. Harlan retired from Allied Chemical after 36 years of service. He enjoyed doing yard work, fishing and bowling. He was a member of the Tyrol Club, which he was very proud of. He was a communicant of St. Cecilia's Church. Harlan was a big Yankee and Syracuse University fan. He enjoyed spending time with family and friends at Oneida Lake.
He was predeceased by his wife of 60 years, Margaret; granddaughter, Rachel Margaret Venuti; sister, Hilda Todeschini and his brother, Norman.
Harlan is survived by his daughter, Elizabeth (Peter) Venuti; son, Thomas (Meghan Thompson); grandchildren, Stephanie and Justin; sister-in-law, Mary Jane Finnegan of Virginia as well as several nieces and nephews.
We want to acknowledge the kindness and compassion that was shown to us by so many of the staff at St. Camillus. Starting with the "Welcome" from the registration desk to the wonderful and dedicated staff which helped us along the way. Special thanks to the nurses and aides on KB unit and also to the loving care we were shown on the C Unit during our final days. Thank you so much.
A Mass of Christian Burial will be held Wednesday, October 6, 2021 at 10:30 am at St. Patrick's Church. Calling hours will be held at church prior to the mass from 9:30-10:30am. Entombment will be in St. Mary's Mausoleum, Dewitt.
In lieu of flowers donations to St. Patrick's Church, 216 N. Lowell Ave. Syracuse, NY 13204.
The family requests that you wear a mask in church and at the mausoleum.