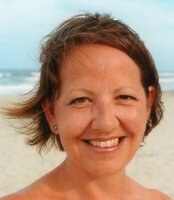 Delisa A. Kerwin
Delisa A. Kerwin, 49, of Syracuse, NY passed away Saturday, October 9, 2021, at home surrounded by her family. She was a lifelong resident of Syracuse. Delisa graduated from Corcoran High School in 1990 and attended Onondaga Community College. She was employed by the Onondaga County Parks Department. Delisa enjoyed cooking, gardening, walks with her dog, Dewey, laughter, and spending time in Cape Cod, Pyramid Lake, the Outer Banks, and New Hampshire. More than anything, she adored her loving friends and family, especially her three beautiful children.
Delisa is survived by her husband, Matthew, her children, Noah, Erin, and Allison, her parents, John and Patricia McCarthy, a sister, Denise, and two brothers, Jason (Tracie), and Jeffrey (Mary), all of Syracuse. She is also survived by a niece and several nephews, cousins, aunts, and uncles. Delisa was predeceased by her beloved brother, John Michael.
A Mass of Christian Burial will be held on Friday, October 15, at 10a.m. at Most Holy Rosary Church, 111 Roberts Ave., Syracuse, NY. Calling hours will be held on Thursday, October 14, from 4 to 7p.m. at the Church. Burial will be private.
In lieu of flowers, contributions may be made to Hospice of CNY, 900 Seventh North Street, Liverpool, NY 13088.