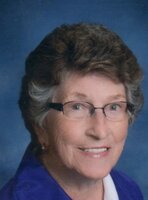 Rosemary Doyle Kearney
Rosemary Doyle Kearney, 91, a life resident of Syracuse, passed away on Thursday October 14, 2021 .
Rosemary was a communicant of St. Ann's Church, Taunton, also serving on various committees including Altar and Rosary Society. An avid tennis and bridge player throughout her days and loved to win.
She was predeceased by her husband of over 50 years, Edward James Kearney, Jr, grandson Michael James Kearney, siblings James Doyle, Virginia Sylvester, and Lawrence Doyle; parents J. Herbert Doyle and Sarah "Sadie" Sullivan Doyle.
Rosemary is survived by her children, E James (Linda) of Park Ridge, IL, Ellen Kearney-Vitto (Mark) of Blairsville, GA and Jeffrey (Michele) of Syracuse, sister Ann Fournier Drysdale, granddaughters Sarah Kearney-Baum (John), Mary Kelley Kearney, Amy Kearney, Alice Kearney, Erin Kearney and Ellen Kearney; great-grandchildren Lilianna, Lillian, Sadie, Chayton, Lucy, Lila, Magnolia, and Edith, plus many nieces and nephews.
Family and friends may call at St. Ann's Church, Taunton on from 8:30-9:30am on October 23, 2021 followed by a Mass of Christian Burial at 9:30am. A private family burial at St Agnes Cemetery will follow. The family requests that In lieu of flowers, donations be made to the American Heart Association, SIDS of Illinois, or Francis House.