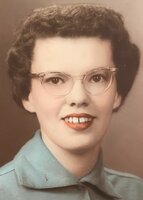 Margaret A. Digney
Margaret Digney (Peggy), 87 years old, of Syracuse, NY, passed away peacefully on November 7, 2021.
Funeral service will be held at Holy Family Church on November 27, 2021 at 9:00 AM. Burial will follow at St. Agnes Cemetery, Syracuse, New York. Edward J. Ryan & Sons will be handling the funeral arrangements.
Margaret Digney was born in Syracuse, NY to Mary & Ernest J. Digney on March 11, 1934. She worked for the City of Syracuse until she retired.
Margaret Digney is survived by 3 nieces (Marybeth Smith-Giromini, Cherylann Smith, Sandra V. Lofstrom), 5 nephews (Laurence D. Smith, James Lipari, John Lipari, Steven Lipari & Frank Lipari), 13 great nieces & great nephews, 5 great- great nieces & nephews. She, is preceded in death by her Parents, Mary & Ernest J. Digney, sisters Mary J. Smith and Barbara Lipari.