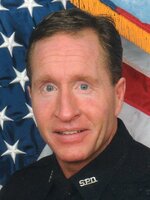 John Nolan
The Syracuse community lost a true legend on Friday, December 24, 2021 when John Nolan passed away suddenly and tragically at home at the age of 59 to cardiac arrest.
John was born in Syracuse, NY on March 8, 1962. He grew up in the Valley area and attended Our Lady of Lourdes Elementary School and Bishop Ludden High School.
On October 26, 1986 he fulfilled his childhood dream of becoming a Syracuse Police Officer. He served on the department for 32 years, where he received an abundance of accolades, awards and recognition:
1991 Syracuse Post 41 American Legion Police Officer of the Year
2001 Post-Standard Award
2002 & 2003 CNYCOP Law Enforcement Commendations
2004 PBA President's Award
2007 & 2016 Meritorious Service Awards
2018 District Attorney's Distinguished Service Award
Numerous Divisional, Bureau, and Departmental Commendations and several letters of appreciation.
He was a member of the Syracuse Police Benevolent Association, Syracuse Police SWAT/Hostage-Crisis Negotiation Team, the Syracuse Police Criminal Investigations Division, Investigations Bureau, Cold Case Investigation Unit, and the Fraternal Order of Police. He was also an instructor in the Syracuse Police Academy and a guest lecturer at a number of local colleges and universities.
Upon his retirement from the SPD, he worked at the Onondaga County District Attorney's Office, where he most recently was a Case Investigator.
He was an avid runner and was highly dedicated to physical fitness. He ran a multitude of competitive road races, with his most favorite being Syracuse's premier road race, The Mountain Goat Run. He ran 35+ Mountain Goats, having only missed one year for his daughter's First Holy Communion. He loved the game of golf, and was a member of Tuscarora Golf Club.
John Nolan lit up a room. His character, his integrity, and his devotion to the people he loved was unparalleled. He was the ultimate example of the ideal husband and father, and his passing has broken the hearts of all who were blessed to know him.
He was, and always will be, the BEST.
He is predeceased by his beloved sister, Kathleen Nolan Ennis, and his father, John J. Nolan, Jr. He is survived by the love of his life, his wife of 35 years, Patricia A. Nolan (Silvaggio) and the light of his life, his daughter, Delaney M. Nolan. He is survived by his dear mother Margaret A. Nolan and his cherished nephews Corey and Eric Ennis and Eric's wife Whitney and their sweet daughter, Hayden. He is also survived by several relatives and friends who will cherish his memory forever.
Calling hours will be held Wednesday, December 29, 2021 from 4-7pm at St. Lucy's Roman Catholic Church 432 Gifford Street Syracuse, NY 13204.
A funeral mass will be celebrated Thursday, December 30, 2021 at 10am at St. Lucy's Roman Catholic Church. Burial to follow at St. Francis Xavier Cemetery in Marcellus, NY.
Donations can be made in memory of John to Camillus Elks Lodge #2367 P.O. Box 396 6117 Newport Road Camillus, NY 13031.