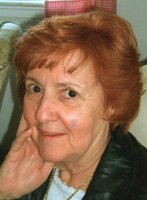 Margaret Piccioni
Margaret M. Piccioni, 88, of Camillus passed away December 26, 2021 at home peacefully.
Born to the late Edward & Ella McGonigal on May 17, 1933 in Pottsville, PA. After graduating high school she married the love of her life Angelo and moved to Syracuse. After moving back to Pottsville for a brief time they came back to Syracuse where they spent their life together raising their children. Peggy spent 50 plus years working for the Fish Cove in Westvale. She loved her Fish Cove family and made many lasting friendships throughout her years there.
Peggy was predeceased by her Husband, Angelo, two sisters, Anne Marie Grant and Mildred Mulroy.
She is survived by her sons, Edward (Karen), John (Karen) and Patrick, 6 grandchildren and two great grandchildren.
A Mass of Christian Burial will be held Friday December 31, 2021 at 11am at Holy Family Church, Fairmount. A calling hour will be held from 10-11am prior to mass at the church. Burial will be private in St. Mary's Cemetery, Dewitt.
In lieu of flowers donations may be made to Alzheimer's Association, Home Office 225 N. Michigan Ave. Floor 17 Chicago, IL 60601.