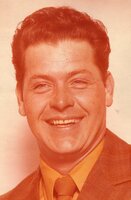 Andrew P. Rhoads
Andrew P. Rhoads, 87, of Syracuse passed away peacefully January 7, 2022 at home.
Born in Syracuse, NY to the late James and Elizabeth Rhoads on November 6, 1934. He was a Local 12 Union Carpenter for 50 years. After retirement he went to work for his nephew Jerry McAvan at McAvan's Pub. After Jerry's passing he continued to work for his great nephews Brian and Sean McAvan until his passing.
Andrew is predeceased by his parents, 2 brothers, 4 sisters, and a great grandchild Noah.
He is survived by his daughters, Theresa (Sean) Spencer, Carol (Randy) Cardinell, a son, Andrew (Laurie), 10 grandchildren, 14 great grandchildren, a brother Howard as well as many nieces and nephews.
A prayer service will be held Monday January 10 at 7pm at the Edward J. Ryan & Son Funeral Home. Calling hours will be held from 4-7pm prior to the service. Burial will be private.
A special thanks to his granddaughter Sarah who lived with him and cared for him the last 5 years as well as the office of Dr. Charles, Pisik and Hasan.