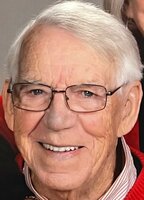 Richard J. Keough
Richard (Dick) Keough of Syracuse, NY passed away peacefully on Saturday, January 8, 2022. His wife, Mary, and daughters, Katie and Kerry were by his side. Dick will be remembered as a loving husband, father, grandfather, brother, and uncle and as a tireless advocate for non-violence and for the poor. A man of simple needs and deep convictions.
Dick was born on December 31, 1934 in Binghamton, NY. Dick followed his call to become a priest on May 18, 1968. After six years of ministry in that vocation, Dick left the priesthood to marry fellow Catholic Worker, Mary Kortright, who he met serving at Unity Kitchen. Mary remembers the winter Unity Kitchen was founded no one in Syracuse froze to death. This was just one of many examples of Dick's commitment to the social gospel. He started the Albany County Jail work release program while living in Troy, NY (1974-78). Upon returning to Syracuse, Dick worked with Fr. Bill Cuddy and Jail Ministry, then established the H.E.L.P. (Helping Ex-offenders & Low-income People) Program. As a parishioner at St Lucy's parish on Syracuse's Near Westside, Dick preached frequently on Jesus' call to love one another and often ended his homilies with, "stop the killing."
He organized two Peace Walks, one in 1995 here in New York state that was to reflect on the devastation caused by the bombings of Hiroshima and Nagaski, and another in 1997 in Ireland to bring reconciliation to honor the victims of the Potato Famine. His first act of civil disobedience was in 1970 at the NYS Fair, where he painted symbols of peace on tanks; he believed that the fair was a place to celebrate life. Dick participated in numerous non-violent protests. He was inspired by his faith to draw attention to injustices in our community and throughout the world. He was one of the founding members of the Oxford Inn, a shelter for homeless men in Syracuse and a supporter of Unity Acres in Orwell, NY. He was a member of Pax Christi and created a campaign in 1997 to declare Syracuse a Human Sanctuary to combat gun violence in our community. In his later years, Dick was a member of Friends of Franz and Ben. One of Dick's heros, Franz Jagerstatter, the Austrian Catholic peasant who refused to cooperate with the Nazis in WW2 and was not supported in his resistance by most Catholic Church leaders, his Bishop or his Catholic community. Said in 1943 before his execution, "If the Church stays silent in the face of what is happening, what difference would it make if no church was to ever open again." Dick quoted him often. Dick spent hours researching Ben Salmon, an American Catholic WWI war resister and his struggle with the Church to keep faith to the nonviolent Christ. On Ben's tombstone, "THERE IS NO JUST WAR."
Dick and his wife, Mary, were profoundly committed to hospitality, opening their hearts and their home to many in need over the years. When Mary founded Sarah's Guest House in 1994, Dick was her partner in all aspects of the hospital hospitality house.
Dick graduated from North High School (1952) in Binghamton, NY and was recruited to become a tool and die maker at IBM. He attended Saint Bernard's Seminary in Rochester, NY completing his studies in 1968. It was while serving in the Army from 1956 to 1958 that Dick became a Pacifist and began what became his lifelong commitment to non-violence. In recognition of his life of service, he was awarded the Dorothy Day Award (with his wife Mary) in 2003 and the Brady Faith Award in 2006.
Dick loved spending time with family and friends, discussing the ideas of radical spiritual writers, being on Otisco Lake fishing/ boating, and trips to Ireland, Cape Cod, and on the Erie Canal with his brother Jack. He delighted in seeing his grandchildren singing and dancing, they brought light to his world. Dick's faith was the driving force in his life and he acted on that faith courageously and with relentless dedication.
Dick is preceded in death by his parents, Raymond and Marion Keough, his sisters' Rosemary Keough and Joan Recchia and his brother Jack Keough.
Surviving Dick is his wife, Mary, his daughters Katie Keough (Will Blinn) and Kerry Glenn-Keough (Courtney), his grandchildren: Atira and Fiona Glenn-Keough and Jack Blinn-Keough and his sister, Eileen Barrett.
Dick's life will be celebrated in a service at St. Lucy's Church on Saturday, January 15 at 11 AM for immediate family only. The service will be on Zoom for all: https://us02web.zoom.us/j/84372928961?pwd=RzNXa3JiT0k5QVpQaWhQVXArWXRxQT09 . A public gathering will be held at a future date.
Meeting ID: 843 7292 8961 Passcode: 13204
Donations can be sent to: Sarah's Guest House, 100 Roberts Avenue, Syracuse, NY 13207 and to the Go Fund Me set up to defray the costs of the funeral and for donations to the Catholic Worker Movement: https://www.gofundme.com/f/helping-the-keoughs-and-catholic-worker-community?utm_source=customer&utm_medium=copy_link&utm_campaign=p_cf+share-flow-1