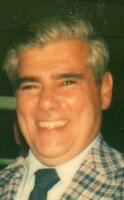 John Moriarty
John M. Moriarty, 91, of Syracuse passed away peacefully January 9, 2022.
Born in Syracuse on July 23, 1930 to the late John and Marcia Moriarty. He was a graduate of St. Patrick's High School before joining the NAVY and serving his country. He went on to start Moriarty Trucking Service. He was an usher and proud communicant of St. Margarets Church.
He is predeceased by his parents, his wife Lenore Duffy, a son, Patrick Michael, a grandson, Brian DeForge, a sister, Marcia Mullen, brothers, Don, Francis and Gene.
John is survived by children, Tim (Mary), Kathleen (Peter) DeForge, Ann Tribou and Bill (Mary), several grandchildren and great granchild as well as many nieces and nephews.
A Mass of Christian Burial will be held Thursday January 13 at noon at St. Margarets Church, 200 Roxboro Rd, Syracuse, NY 13211. Calling hours will be held from 10am-12pm prior to mass at the church. Burial will be in Onondaga County Veterans Cemetery.
In lieu of flowers donations may be made to Hospice of CNY,, 990 7th North Street, Liverpool, NY 13088.