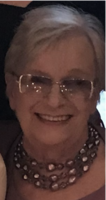 Margaret K. Crimi
Margaret Kuta Crimi, 84, of Syracuse passed away Thursday January 13, 2022.
She was born in Syracuse, NY on May 8, 1937 to the late Joseph and Eleanor Kuta and was one of 7 sisters. She always made a house a home with her creative sewing, home décor and gardening skills. Her greatest joy in life was spending time with her children, grandchildren and great grandchildren.
Margaret was predeceased by her parents, her husband of 46 years Philip N. Crimi, sisters, Dorothy Gardner, Jane Warzecha and Arlene Fiato as well as a niece, Karen Vendetti.
She is survived by her children, Phyllis (John) Cook, Philip Ross, Cynthia (Peter) Adams, Jim (Jill) and Anthony, sisters, Phyllis (Fred) Corper, Michaeline (Stephen) Driscoll, Cathy (Sam) Furco, grandchildren, John-Paul Quattrone, Maximilian (Samantha) Quattrone, Armand (Terri-Ann) Adams, Maxine Adams, Michaela Medici, Vaughn Crimi, Roman Crimi, Philip Crimi, great grandchildren, Gemma Quattrone, Wyatt Quattrone, Clarke Adams as well as 17 nieces and nephews.
Private services will be held.
In lieu of flowers donations may be made to Francis House, 108 Michaels Ave. Syracuse, NY 13208 Francishouseny.org or Hospice of CNY 990 7th North Street Liverpool, NY 13088 hospicecny.org