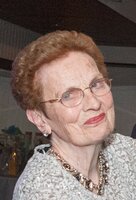 Mary C. Martindale
Mary Cummings Martindale, 88, passed away peacefully on Thursday, January 6, 2022, in Arlington Heights, IL. She was born on June 29, 1933 in Syracuse NY to Edward E. and Carola (Fitzpatrick) Cummings. She graduated from St. Patrick's high school in Syracuse. She married Robert M. Martindale in 1955 and they had 5 sons. She was a very loving mother. Mary was a longtime employee of MONY. She enjoyed music and singing in the church choir. She was an avid fan of Syracuse basketball and the Chicago Cubs.
She is survived by her sons, David C. Martindale (Mary) of Lebanon, TN, J. Thomas Martindale (Connie) of Palatine, IL, Michael E. Martindale (Cindy) of Salem OR and Jeffrey J. Martindale (Nancy) of Wauconda IL, her daughter-in-law, Patty Martindale, granddaughters, Laura Hatcher (Jack), Karen Sherman (Paul), Mallory Martindale and Lindsey Merkle (Andrew), great granddaughter Renee, and many cherished nieces and nephews.
She was preceded in death by her parents, her sisters, Jean (Charles) Donnelly and Patricia (Arnold) Cornwell, her brothers, Robert (Polly) and Donald Cummings, and her son, Gregory S. Martindale (Patty).
A funeral mass will be held on Monday May 23rd at 10 AM at St. Ann's Church at 4471 Onondaga Blvd. in Syracuse. Calling hours will be held from 9 to 10 am prior to mass at the church. Burial will be private at St. Patrick's cemetery in Otisco.
In lieu of flowers, donations can be made to the St. Charles – St. Ann Food Pantry at 417 S. Orchard Rd. in Syracuse NY or Francis House, at 108 Michaels Ave. in Syracuse NY.